Perry Hall Children's Center is fortunate to have a very talented and passionate teacher guiding our classrooms.
Chrissy McHugh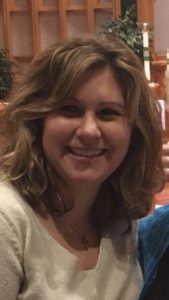 Chrissy McHugh is excited to be teaching her fourth year at PHCC! Mrs. McHugh is thrilled to be teaching new kiddos and returning friends in both the 3's and 4's classes this year!  She and her husband both attended PHCC. The McHugh's sons, Jack (11) Charlie (8) are PHCC graduates. Ben (4) is attending the 4AM class this year. The McHugh boys also welcomed a sister, Emma in May 2019!
Mrs. McHugh has her Bachelor's Degree from The College of Notre Dame of MD in Elementary and Early Childhood Education. Her Master's Degree is from Towson University in School Library Media and Technology.
Chrissy's many teaching experiences through HCPS, BCPS and Gymboree Play and Music Program have prepared her to help your children learn through play and provide your children with a variety of learning experiences. She is truly honored to be your child's first school teacher!